I've never been big on resolutions, mostly because I don't have the willpower for them. Another reason, though, is that I've often thought of resolutions as promises of things not to do. Do not eat chocolate. Do not gain weight. Do not curse, etc. It's easier to DO something than to NOT do something.

Now, the question is: What do I want to do?

"Either I'm dead and I haven't done everything that I want or I'm still alive and there's nothing I want to do." -They Might Be Giants

Inspired by watching "It's a Wonderful Life," I started thinking about ways the world would be different if I weren't here. I like to think that the world is better informed of important news and that democracy functions better because of that knowledge. But that's so esoteric. What are some concrete things that are definitely different (better?) because I exist?

1.) You would not be reading this blog right now.
Powered by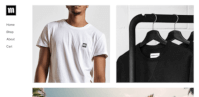 Create your own unique website with customizable templates.