Highlighting work I admire
A wonderful slice of life by a student journalist. (Click on the headline to view the full story.)
On the last morning, before the waffle irons went cold and the pictures came down, before the lock refused to lock, before the claw crashed through the roof, the old man paced.

Tap, tap, tap. Bud Powell's aluminum cane led the way as he circled the floor of Bloomington's Waffle House. His Waffle House.

That Wednesday in September, the owner didn't know what to do with himself. The smell of frying oil, the same greasy perfume that had greeted customers for 46 years, wafted into his nose as he wandered past the vinyl booths. He sat down, then stood
up again.

Bud — everyone called him Bud — checked on the dwindling supply of breakfast sausage, peered into the nearly empty freezers, tried to explain to his regulars why it had to be this way.
---
Powered by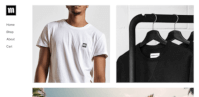 Create your own unique website with customizable templates.